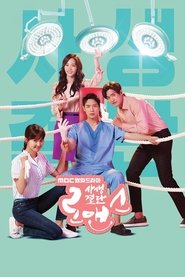 Risky Romance
TV Status: Completed
Duration: 35 min
Release: 2018
Description
Can the logical brain mix with volatile emotions?
Han Seung Joo is a star neurosurgeon who is renowned for his extraordinary memory. To him, the world is very clear-cut and logical. But his strong personality frequently places him at odds with his fellow neurosurgeon, Cha Jae Hwan, who is the son of the hospital director.
Joo In Ah (Lee Si Young) is an endocrinologist whose main interest is the role of hormones in sexual attraction. Meanwhile, Han Seung Joo (Ji Hyun Woo) is a neurosurgeon who feels a strong professional rivalry with the endocrinologist. They develop romantic feelings for each other after they begin working together.
When they both fall for Joo In Ah, an endocrinologist who is obsessed with hormones, they take competition to a whole new level.
Drama: Risky Romance (literal title)
Revised romanization: Sasaenggyeoldan Romaenseu
Hangul: 사생결단 로맨스
Director: Lee Chang-Han
Writer: Kim Nam-Hee, Heo Seung-Min
Network: MBC
Episodes: 32
Release Date: July 23 – September 17, 2018
Runtime: Mondays & Tuesdays 22:00 (35 minutes each / 2 episodes per day)
Language: Korean
Country: South Korea