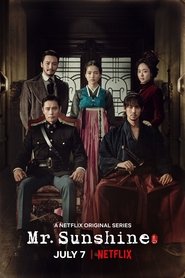 Mr. Sunshine
Views: 807
Genre: Drama
Actors: Bae Jung-nam, Byun Yo-han, Choi Moo-seong, Heo Jung-eun, Jo Woo-jin, Kim Byung-chul, Kim Eui-sung, Kim Min-jung, Kim Tae-ri, Lee Byung-hun, Lee Jung-eun, Shin Jung-geun, Yoo Yeon-seok
Studio: Hwa and Dam Pictures, Studio Dragon
TV Status: Completed
Duration: 75 min
Release: 2018
Description
Based in Shinmiyangyo, or the U.S. expedition to Korea in the late 19th century, Mr. Sunshine tells the story of a Korean boy born into a family of a house servant running away to board an American warship, later to return to his homeland as a U.S. marine officer. He ironically falls in love with an aristocrat's daughter and discovers the dark scheme to colonize the country that he once ran away from.
tvN (Sat, Sun) 9 PM KST
Note
– Lee Byung Hun makes a TV comeback through this drama after 9 years.
– Screenwriter Kim Eun Sook and director Lee Eung Bok previously worked together in 2016 tvN drama series Goblin and 2016 KBS2 drama series Descendants of the Sun.
– Kim Sa Rang was cast to play a major female supporting character role, but had to drop out due to scheduling issues. Kim Min Jung was then cast to play the same role.