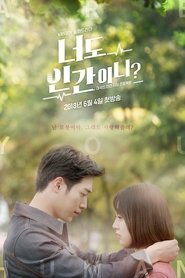 Are You Human?
Views: 306
Genre: Fantasy, Science Fiction
Director: Jo Jung Joo
Actors: Cha In-Ha, Cha Yup, Chae Dong-hyun, Choi Byung-mo, Choi Deok-moon, Gong Seung-yeon, Jo Jae-ryong, Kim Hye-Eun, Kim Hyun-Sook, Kim Sung-ryung, Kim Won-hae, Lee Joon-hyuk, Oh Hee-joon, Park Hwan-Hee, Park Young-gyu, Seo Kang-joon, Yu Oh-seong
TV Status: Completed
Duration: 35 min
Release: 2018
Description
Nam Shin is a son from a family who runs a large company. After an unexpected accident, he falls into a coma. His mother Oh Ro-Ra is an authority on brain science and artificial intelligence. She creates an android named Nam Shin III which looks like just like her son Nam Shin. The android pretends to be Nam Shin and he has a bodyguard So-Bong.
Air time: Monday & Tuesday 22:00 (2 episodes back-to-back)
Episode Airing Date and Ratings
| Date | Ep | TNmS | TNmS | AGB | AGB |
| --- | --- | --- | --- | --- | --- |
| | | Nationwide | Seoul | Nationwide | Seoul |
| 2018-06-04 | 1 | 6.1 | 6.3 | 5.2 | 5.4 |
| 2018-06-04 | 2 | 6.9 | 7.2 | 5.9 | 6.1 |
| 2018-06-05 | 3 | 5.4 | 5.6 | 5.0 | 5.2 |
| 2018-06-05 | 4 | 5.9 | 6.1 | 5.3 (19th) | 5.5 |
| 2018-06-11 | 5 | 5.5 | 5.7 | 5.4 | 5.6 |
| 2018-06-11 | 6 | 7.0 | 7.2 | 6.3 | 6.5 |
| 2018-06-12 | 7 | 8.0 | 8.3 | 7.7 (6th) | 7.4 (4th) |
| 2018-06-12 | 8 | 9.6 | 9.7 | 9.9 (3rd) | 9.8 (2nd) |
| 2018-06-18 | 9 | 5.2 | 5.4 | 5.5 (19th) | 5.7 |
| 2018-06-18 | 10 | 5.2 | 5.5 | 5.0 | 5.3 |
| 2018-06-19 | x | FIFA | World | Cup | 2018 |
| 2018-06-19 | x | FIFA | World | Cup | 2018 |
| 2018-06-25 | 11 | 5.0 | 5.2 | 4.6 | 4.8 |
| 2018-06-25 | 12 | 5.7 | 5.9 | 5.3 | 5.4 |
| 2018-06-26 | x | FIFA | World | Cup | 2018 |
| 2018-06-26 | x | FIFA | World | Cup | 2018 |
| 2018-07-03 | 13 | 5.2 | 5.4 | 4.8 | 5.1 |
| 2018-07-03 | 14 | 6.4 | 6.7 | 5.9 | 6.2 |
| 2018-07-03 | 15 | 5.2 | 5.3 | 4.8 | 5.0 |
| 2018-07-03 | 16 | 4.6 | 4.8 | 4.2 | 4.3 |
| 2018-07-09 | 17 | 4.7 | 4.9 | 4.3 | 4.4 |
| 2018-07-09 | 18 | 5.5 | 5.7 | 5.2 | 5.6 |
| 2018-07-10 | 19 | 5.0 | 5.3 | 4.6 | 4.8 |
| 2018-07-10 | 20 | 5.9 | 6.0 | 5.5 | 5.6 |
| 2018-07-16 | 21 | 4.8 | 4.9 | 4.4 | 4.5 |
| 2018-07-16 | 22 | 5.5 | 5.6 | 5.1 | 5.3 |
| 2018-07-17 | 23 | | | | |
| 2018-07-17 | 24 | | | | |
| 2018-07-23 | 25 | | | | |
| 2018-07-23 | 26 | | | | |
| 2018-07-24 | 27 | | | | |
| 2018-07-24 | 28 | | | | |
| 2018-07-30 | 29 | | | | |
| 2018-07-30 | 30 | | | | |
| 2018-07-31 | 31 | | | | |
| 2018-07-31 | 32 | | | | |
| 2018-08-06 | 33 | | | | |
| 2018-08-06 | 34 | | | | |
| 2018-08-07 | 35 | | | | |
| 2018-08-07 | 36 | | | | |
Sources: TNmS Media Korea & AGB Nielsen Korea